Corinne Crane
A series to introduce those who work on PPS Danse productions.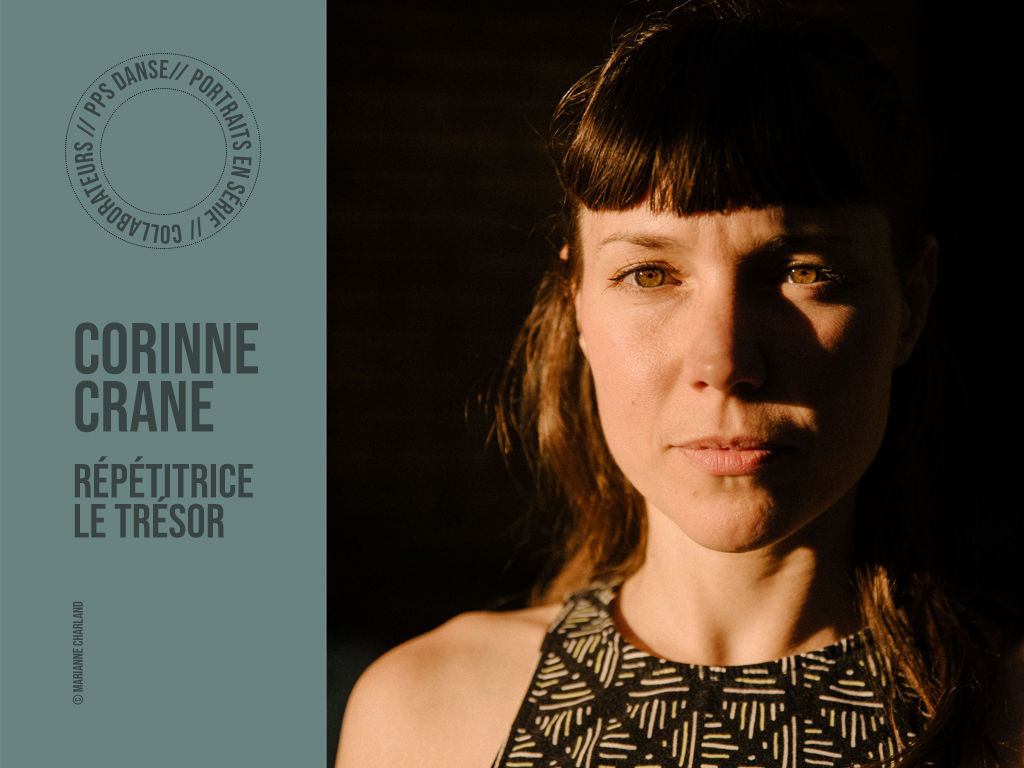 Corinne Crane / rehearsal director for the production Le Trésor
Your place of birth?  Montreal How many years have you been dancing?
Hard to say! Officially, I started when I was 13-14 years old, but I believe that in all the activities I did as a kid, it was movement that interested me.
How do you see your role as a rehearsal director?  First of all, I try to make the work easier for everyone. I feel like the one who "passes the pock" between several people! It's a privileged role because you have a particular perspective on the work to be done. It's a gift to support people who put themselves on stage and take on an artistic proposal.
What is your way of working?
For me, each project requires a different approach because the dynamics are set up according to the personalities and the type of work to be encountered. It's obvious that I go through my heart first! I don't accept to work in a context where my desire to accompany is not activated. Once in rehearsal, I focus on communication. I try to see if everyone is in the same boat, understands the same lexicon and shares the workload in a fluid way. Human relations are at the heart of my exchanges and questioning. When there is a connection, in-depth work is possible in my opinion.
Is it necessary to be a dancer to play the role of rehearsal director?

It's obvious that it makes it easier to find ways out of the body. When I propose something, it's because inside my own body there is the beginning of a solution. To do this work, I believe that beyond the ability to understand and resolve an issue through sensory experience, one must also be interested in all the other elements surrounding a work. It is not because we do dance that everything passes through the body, or at least we must be able to get out of this belief and rely on the work of other collaborators to bring out the unknown. I like it when we can cross disciplines and help each other.
What kind of complicity is necessary with the dancers and the choreographer?

First of all, laughter. Shared humour is a sign of trust towards the other. I also like it when I perceive that a dancer has an idea and enthusiastically proposes something and everyone takes the time to listen and absorb it. For me, it's a great sign of respect and it lifts my soul. Complicity is built by small gestures like that and it's so beautiful to see it unfold between people.
What, for you, makes the difference in your work for young and adult audiences?

I think there are fewer barriers to enthusiasm and wonder when you know that what you create is for younger audiences. Mainly in terms of the quality of the work and the depth of reflection, it's the same as when you choreograph for an adult audience.
Do you rediscover your childlike soul while working on Le Trésor?

My child's soul is never very far away and I would say that working on Le Trésor ( The Treasure) connected me most of all to the beauty and grandeur of the world. I was often moved by the look at the intelligence of children in their creativity and extreme authenticity. Behind every idea and decision during the creation process, I felt a love for transmission through wonder on the part of the entire team.