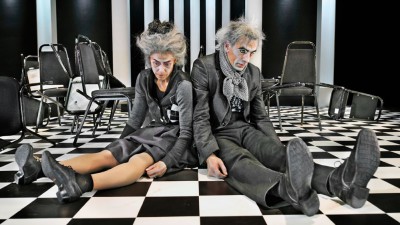 A theatrical-dance production for all ages, from 8 to 88
In this choreographic tragicomedy, an elderly couple, aged 94 and 95, to ward off boredom, solitude and isolation, welcome a steady stream of imaginary guests at their door. Among them we find a colonel, a Sleeping Beauty, a group of children, animal reporters and even the King himself.
An absurd melee ensues with an endless shifting of chairs for the phantom guests. Then suddenly, for all to hear, the awaited Orator arrives!
To everyone's surprise, it is a dancing deaf-mute child who, through the language of dance, speaks a universal message, conveying the shared thoughts of the elderly and the children, and their hopes for a future world. This original adaptation of Eugène Ionescu's play seamlessly integrates dance, theatre and music.
Date/TimeDate et heure
10 April 2018 à 09h45 10 April 2018 at 9:45 am
LocationLieu
Maison de la culture de Pointe-aux-Trembles
14001, rue Notre-Dame Est
Montréal, Québec
H1A 1T9 Canada