PPS Danse kicks off the second half of the season marking its 30th anniversary with two not-to-be-missed events: Lhasa Danse d'abord, on tour from January 17 to February 27; and Le Trésor, the company's new production for young audiences presented from March 4 to 7 at Place des Arts.
DANSE LHASA DANSE. An ode to life. On tour from January 17 to February 27, and at Place des Arts on February 6, 2020
In addition to the 30th anniversary of PPS Dance, 2020 marks the 10th anniversary of the death of Lhasa de Sela, a huge performer with a warm and unforgettable voice. Gone too soon at the age of 37, Lhasa left an unclassifiable work, rich in all her influences, full of humanity, which invites us to celebrate life in all serenity. It is in this spirit that Pierre-Paul Savoie imagined Lhasa Danse, a musical and choreographic tribute that has been warmly acclaimed since its creation in 2011, in co-production with Coup de cœur francophone. The show is back on the road from January 17 to February 27, offering the chance to discover the diversity and richness of Lhasa's repertoire in a programme revisited by 16 performers. Leaving plenty of room for song and dance, which intertwine throughout an intimate evening, Lhasa Danse brings together on stage magnificent accomplices from the very beginning: Bïa, Alexandre Désilets, Geneviève Toupin and Karen Young, accompanied by five instrumentalists under the musical direction of Frédéric Darveau. Rarely have we seen such an evocative blend of song and dance in choreographies by Myriam Allard, Hélène Blackburn, Sébastien Cossette-Masse, Roxane Duchesne-Roy, Pierre Lecours, David Rancourt, Pierre-Paul Savoie, Roger Sinha and Edgar Zendejas. Inspired by the magic of this double language, Lhasa Danse invites us to a happy and moving reunion, at the crossroads of genres, present and past. Danse Lhasa Danse will take over the stage of Théâtre Maisonneuve at Place des arts for the first time on February 6 to celebrate the company's 30th anniversary. Singer Betty Bonifassi will join the show as guest artist.
_ _
LE TRÉSOR (The Treasure)
  PPS Danse's new production for young audiences, Le Trésor will premiere at the Cinquième Salle at Place des Arts from March 4 to 7, 2020. Inspired by a deep attachment to Quebec song, Pierre-Paul Savoie drew on this repertoire to create Le Trésor, an interdisciplinary creation. The songs of Vigneault, Léveillée, Leclerc and La Bolduc join those composed by Alexandre Désilets, Alexis Dumais and Lise Vaillancourt (lyrics) to set the canvas for a choreography that oscillates between ardour and poetry, between softness and tone. The stage space created by Richard Morin comes to life and is transformed into an enchanting movement. Le Trésor takes a luminous look at childhood, at the joy, freedom and spontaneity of play, a glance at the complicity shared with pets, a cat here, these guardians of our most intimate secrets. Anchored in values of humanity, fraternity and sharing, Le Trésor reveals the greatness of little ones. The creation of the show was made possible thanks to Place des Arts de Montréal and its foundation.
_ _
CULTURAL MEDIATION PROGRAM
A major cultural action program accompanies the series of Treasury performances during the school break week. Divided into four groups, children will be able to participate in workshops in dance, shadow theatre, image association and language. Different areas of Place des Arts will be assigned to the activities through an unusual itinerary that you won't want to miss during the first week of March!
_ _
TWO-PART EXHIBITION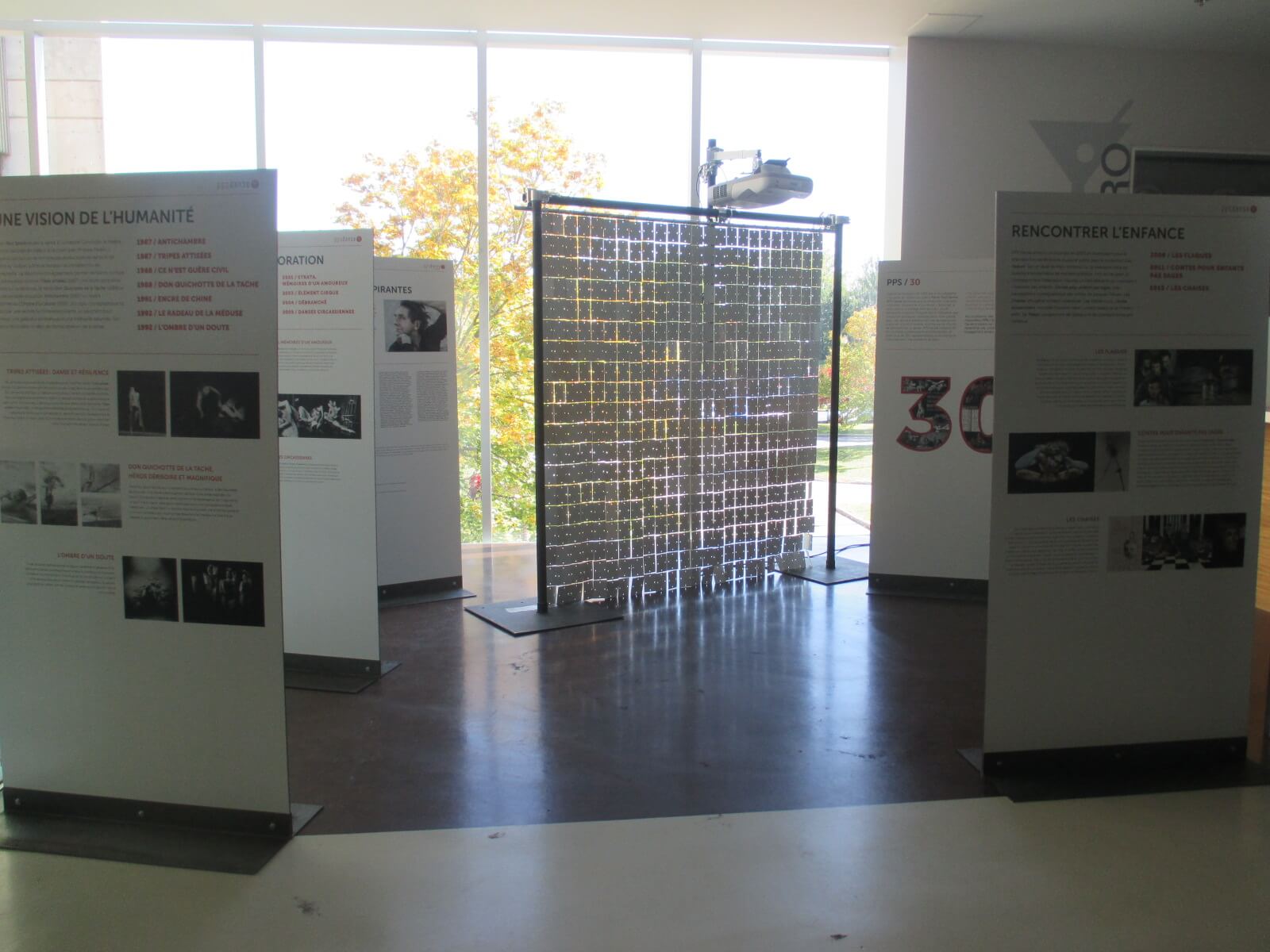 In addition, the travelling exhibition retracing the company's 30 years continues in the venues that are showing our productions this year. The young audience component of the exhibition will be unveiled in March at Place des Arts and should delight audiences with its participatory and playful dimension. Photo : Céline Lapointe
_ _