End of a great season for PPS Danse!
PPS Danse had an ambitious program filled with activities for its 30th anniversary, it's not every day you turn 30! On the menu, two new creations: Attractions, co-produced with Sacré Tympan and Le Trésor, a new creation for young audiences supported by Place des Arts. A tour of Corps Amour Anarchie / Léo Ferré in Montreal and overseas has been added to the program. Finally, the re-creation of Danse Lhasa Danse hit the road again and played to a full house at Théâtre Maisonneuve last February. Let's not forget our cultural action program, which was deployed on Quebec territory, as well as the two components of the retrospective exhibition, one of which is designed specifically for young audiences. The desired encounter with the public lived up to our expectations. All of our performances were followed by enriching discussions with the public. Four productions on the road are a sign of our creativity. The feeling that emerges at the end of this season is one of satisfaction and accomplishment. The warm welcome from the audience for the works presented this year filled us all with joy. In closing, I salute the contribution of the guest choreographers and the teams of dancers who performed the productions Danse Lhasa Danse and Corps Amour Anarchie / Léo Ferré; the palpable complicity of composer Pierre Labbé, cellist Élisabeth Giroux and dancers Roxane Duchesne-Roy and Nicolas Boivin in Attractions and the entire artistic team who made Le Trésor such a gem. I congratulate the colossal work accomplished by our small team: Anne-Valérie, Céline, Benjamin and Ginette: THANK YOU! In a perspective of renewal, our 30th anniversary concludes with the welcoming of David Rancourt as co-artistic director. A natural association that is already in the process of conceiving a first common project that will bring us together. I invite you to watch the video that shows it here. Have a great summer!  – Pierre-Paul Savoie
A season in summary and images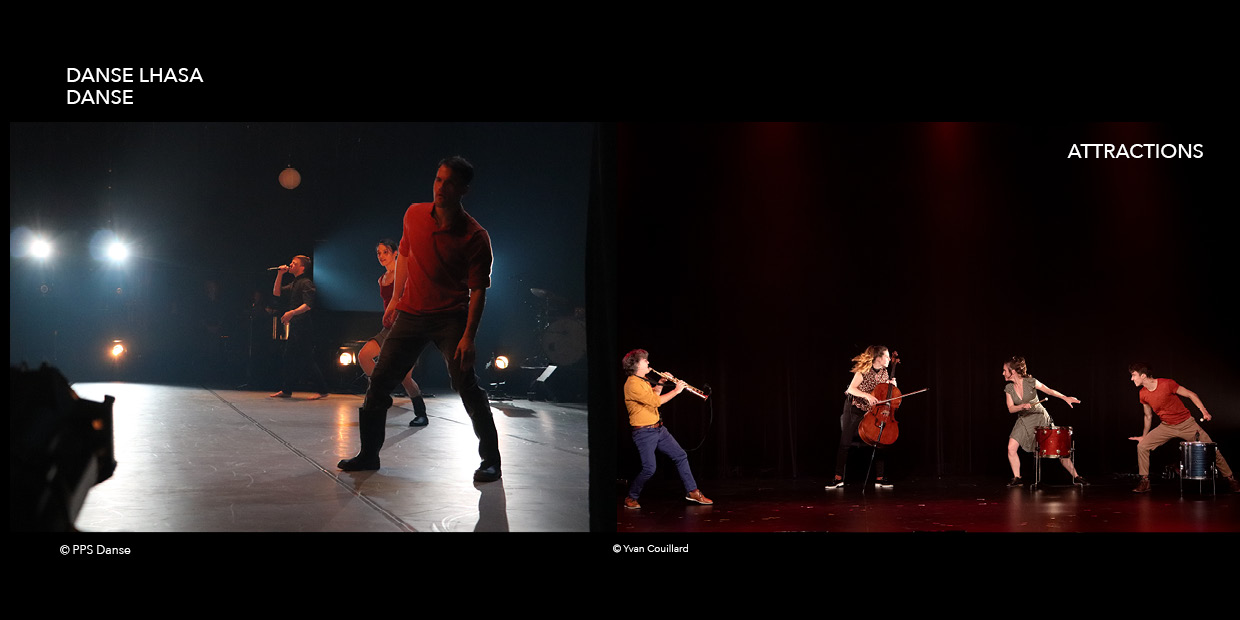 Seven performances of a reworked version of Danse Lhasa Danse were offered in as many cities in Quebec, garnering a magnificent reception everywhere. The evening of February 6th, marking more specifically the 30th anniversary of PPS at Maisonneuve Theatre, was a pure moment of grace, warmly welcomed by a full house! Lhasa's memory of Sela serenely permeated this ode to life. Thank you to all the performers, choreographers, designers, technicians, collaborators, and thank you to the public for being there, in great numbers. But before that, we put the finishing touches to a co-production with Sacré Tympan, Attractions, which we premiered in October 2019 at the Maison de la culture Claude-Léveillée. This is a show full of strength and gentleness, with music, dance and the many possible connections between them.
      A Montreal tour of the show Corps Amour Anarchie / Léo Ferréwas also carried out in the fall as part of the Conseil des arts de Montréal en tournée. The reception and the well-filled rooms show us that Ferré's universe and dance go hand in hand, carried by performers and collaborators who all did a fantastic job. Thank you all.
 On the young audience side, we won over the youngsters who invaded the Cinquième salle at Place des Arts during March break. We had the chance and the great pleasure to unveil a show that reveals treasures of inventiveness and sensitivity. The Treasure enchants all! We are also proud to have offered two components to our travelling exhibit that retraced the company's 30 years, for both the general and young public. The exhibit accompanied the Conseil des Arts de Montréal's touring performances and those at Place des Arts.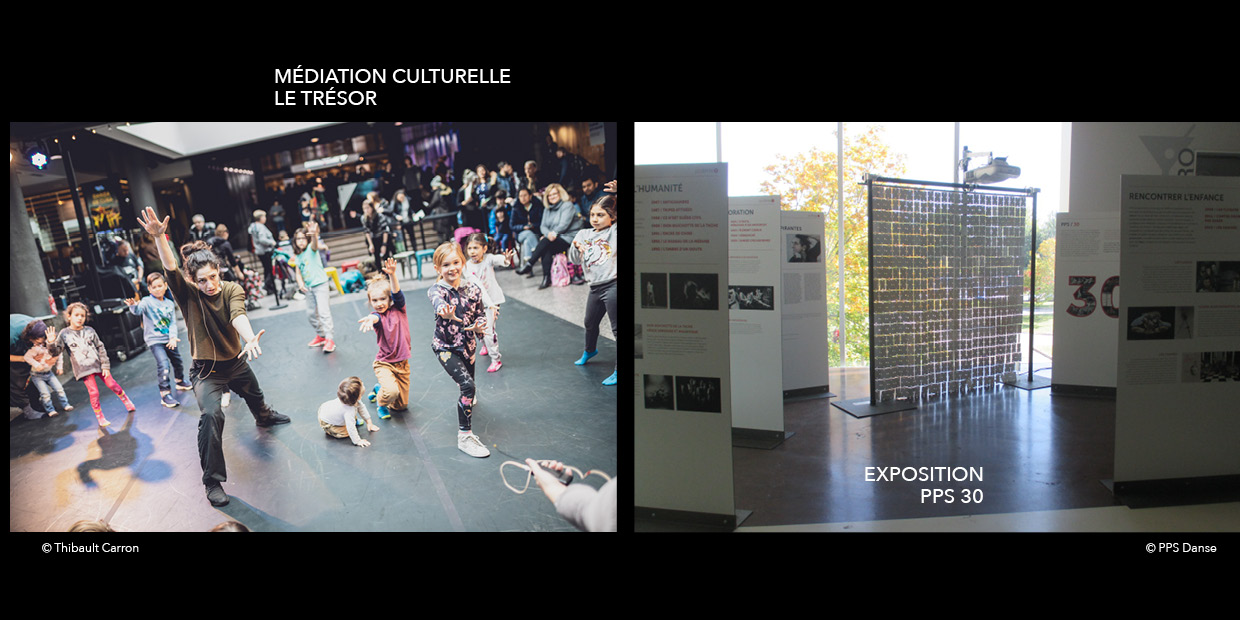 In terms of cultural mediation, the incredible program of activities organized around the performances of the Le Trésor during spring break was nothing but moments of happiness for the children, and for us, delighted to see so much cultural action simultaneously: dance, shadow theatre, reading, language games, crafts, as well as sparks of joy!
News from the general and artistic direction
Changes have recently been announced within the company. First of all, let's recall the appointment of Anne-Valérie Côté to the executive Director  of PPS Danse. As the company's coordinator since May 2018, Anne-Valérie has been able to demonstrate all of her know-how and put to good use the experience she acquired with I Musici de Montréal, among others. There is no doubt that she will be able to unite the teams around her and move the company's projects forward in the future.
. In addition, a few weeks ago we announced a reorganization in our artistic direction. Indeed, Pierre-Paul Savoie, founder of the company, now shares the artistic direction with David Rancourt, dancer and choreographer who has been developing collaborations and affinities with the company for the past ten years. Wanting PPS Danse to continue to be a crossroads for artists, disciplines and audiences, David hopes that his extensive knowledge of the field will make him a unifying co-artistic director, capable of being open, listening, taking risks and of freedom. We welcome him! By breaking the model of a single artistic direction and giving precedence to this open structure of creation, PPS Danse reaffirms a positioning that puts forward the notions of exchange and sharing.