A must-see season for 30 years of PPS Danse!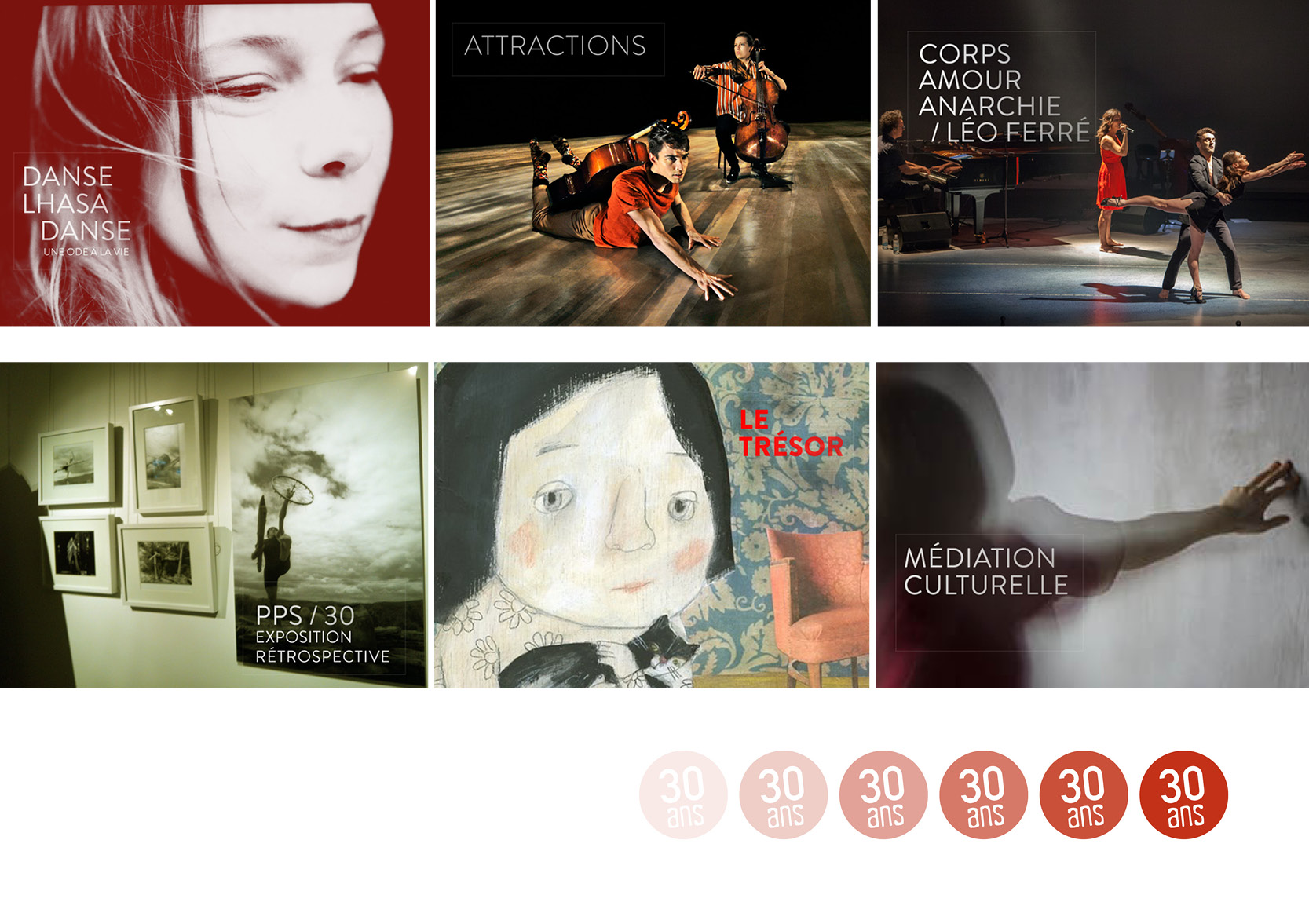 To mark its 30th anniversary, PPS Danse has put together an exceptional program that highlights its vitality, its repertoire and the many facets of the remarkable talent of its founder and artistic director, Pierre-Paul Savoie. To season plunges in to our history and memories with a long-awaited revival of the Dance Lhasa Dance show which appears as the culmination of a productive and intense year. Indeed, two new creations are under construction and will be unveiled during the year (Attractions and  The Treasure) while a tour of Montreal and Europe is planned for Corps Amour Anarchie / Léo Ferré, a show dedicated to the repertoire of the great poet. The program for this 30th anniversary promises to be full of life and diverse for different audiences. It is orchestrated around inspiring projects that proudly carries the mark of PPS Danse.
GENERAL PUBLIC
Dance Lhasa Dance, created in 2011, is an ode to life highlighting as much the work of Lhasa de Sela, who disappeared ten years ago, as the company's thirty-something candles. A work bringing together about fifteen performers on stage. The vibrant show, warmly welcomed at the moment of its creation, echoes the unclassifiable repertoire of the one that encourages us to celebrate life in all its serenity. The show staged by Pierre-Paul Savoie will be presented in several Quebec cities and culminate in an evening at the Théâtre Maisonneuve at Place des Arts on February 6, 2020. Not to be missed! – With Bïa, Alexandre Désilets et Karen Young (singers), Myriam Allard, Tom Casey, Sébastien Cossette-Masse, Roxane Duchesne-Roy, Sara Harton, Marie-Ève Lafontaine, David Rancourt (dancers), Frédéric Darveau, Sheila Hannigan, Charles Trudel, Jean-Alexandre Beaudoin, Pascal Racine-Venne (musicians), on choreographies by Myriam Allard, Hélène Blackburn, Sébastien Cossette-Masse, Pierre Lecours, David Rancourt, Edgar Zendejas, Roger Sinha and Pierre-Paul Savoie.
Attractions, co-produced with the company Sacré Tympan (music-theater), stages two dancers and two musicians. Opposites and complementary, they explore zones and interactive forces of their respective disciplines by multiplying the crossovers opening new scenic language perspectives. Save the  date on October 24th at  the Maison de la culture Claude-Léveillée. – Choreographied and directed by Pierre-Paul Savoie, with original music by Pierre Labbé. Avec Nicolas Boivin, Roxane Duchesne-Roy (dance), Élisabeth Giroux and Pierre Labbé (music).    
Finally, the immense privilege to present Corps Amour Anarchie / Leo Ferré continues as a tour is planned with the Montreal Arts Council and in a few cities in France and Belgium. Designed and directed in 2016 by Pierre-Paul Savoie to mark the 100th anniversary of the great poet, the show co-produced with Coup de cœur francophone was a great success and continues to dazzle with the singularity of its content. Ten performers wear and embody Ferré's words on stage with originality and power. Rendez-vous at the summit! – With Bïa, Alexandre Désilets, Betty Bonifassi (singers) ; Alexis Dumais (pianist) ; Alexandre Carlos, Marilyne Cyr, Roxane Duchesne-Roy, Sara Harton et David Rancourt (dancers), (Lila-Mae Talbot and Sébastien Cossette-Masse, substitutes), on choreographies by Hélène Blackburn, Alexandre Carlos, Emmanuel Jouthe, Anne Plamondon, David Rancourt and Pierre-Paul Savoie.
YOUNG AUDIENCE
Le Trésor (The Treasure), a new production for young audiences with multiple finds (aux multiples trouvailles), will be premiered at the 5e Salle of the Place des Arts from March 4 to 7, 2020, and in may at the Petits Bonheurs Festival.   The Treasure draws on the vast repertoire of Quebec chanson in a show where imagination is queen. Thus the songs of Vigneault, Léveillée, Félix Leclerc and La Bolduc, in addition to those composed for the show by Alexandre Désilets, Alexis Dumais and Lise Vaillancourt, become a soundtrack and support in  a choreographic and visual frenzy. Dance. Songs. Images. A world to discover during spring break.   The creation of the show was made possible thanks to Place des Arts in Montreal and its foundation. An unprecedented cultural mediation program accompanies this series of performances. – Choreographied and directed by Pierre-Paul Savoie, with dancers Chantal Baudouin and Nicolas Boivin (Audray Julien and Corinne Crane, substitutes), with the collaboration of Richard Morin (set designer at the scenography) and Manon Gauthier (illustrations).
A RETROSPECTIVE EXPOSITION IN TWO PARTS
An exhibition is also on the menu, presented in two parts: one tracing the 30 years of the company; the other emphasizing its young audience productions and cultural action. The exhibits will be presented in different venues hosting our shows, allowing to take a retrospective look and trace the evolution of a company that makes encounters its credo.    
CULTURAL MEDIATION
  Finally, a major cultural mediation program completes our anniversary season. It takes shape around The Treasure, and Rupture inaugurale, an ambitious participatory project with children that we will talk about later on. Activities inspired by strong works that focus on breaking down barriers of genres and disciplines to inspire youth from different regions of Quebec.   In the meantime, visit the company's updated website to find out about the activities highlighting 30 years of encounters, creativity and passion.     _ _ PPS Danse in a few words  Since its foundation in 1989 by choreographer, performer and director Pierre-Paul Savoie, the PPS Danse company's mission has been to devote itself mainly to the creation and production of choreographic works that fall within the field of interdisciplinarity. Over the years, the company has added cultural action to its activities. Today, it is by investing in three major niches: the young public, the general public and cultural action, that PPS Danse ensures its position and vitality in the dance community in Quebec. The company has performed more than 850 times, with some 30 works in 15 countries in the Americas, Europe and Asia. Whatever the creative cycle to which they belong, PPS Danse's productions are all marked by significant artistic collaborations and by the humanity of their content. To date, the company's cultural mediation activities have involved thousands of participants, mostly young people, in stimulating projects designed before or after its creations.