A PPS Danse production in collaboration with Place des Arts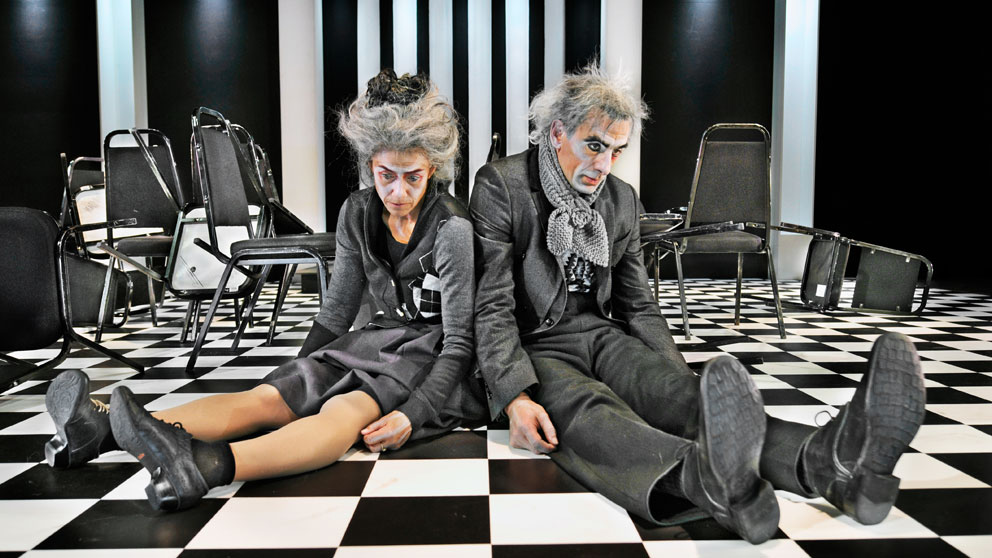 A theatrical-dance production for all ages, from 8 to 88
In this choreographic tragicomedy, an elderly couple, aged 94 and 95, to ward off boredom, solitude and isolation, welcome a steady stream of imaginary guests at their door. Among them we find a colonel, a Sleeping Beauty, a group of children, animal reporters and even the King himself.
An absurd melee ensues with an endless shifting of chairs for the phantom guests. Then suddenly, for all to hear, the awaited Orator arrives!
To everyone's surprise, it is a dancing deaf-mute child who, through the language of dance, speaks a universal message, conveying the shared thoughts of the elderly and the children, and their hopes for a future world. This original adaptation of Eugène Ionescu's play seamlessly integrates dance, theatre and music.
« Un petit bijou …»
Mélanye Boissonnault, Radio-Canada (Montréal)
« Avec son adaptation des Chaises, le chorégraphe Pierre-Paul Savoie s'approprie avec bonheur, tendresse et sensibilité un joyau du théâtre mondial pour le jeune public. »
Olivier Dumas, Monthéâtre.qc.ca
« Toujours aussi pertinente la pièce… fait résonner plusieurs couches de sens … Leurs dialogues et monologues font valser le sublime et l'ordinaire. Leurs petites routines et querelle, et surtout leurs gestes de vieux un peu fourbus par la vie faisaient bien rigoler le jeune public… Car la danse se mêle aux dialogues surtout sous forme d'acrobaties livrées avec la drôle de maladresse que leur âge impose.
Décors, costumes et maquillages, tous en noir et blanc, font un clin d'œil à une esthétique expressionniste, jouant à la fois sur le clownesque et le grave. Des changements de registres qui plaisaient visiblement aux jeunes spectateurs. »
Frédérique Doyon, le Devoir
Crédits
Adaptation and dramaturgy: Lise Vaillancourt
Choreography and staging: Pierre-Paul Savoie
Choreographic collaboration: David Rancourt
Performers: Sylvain Lafortune, Heather Mah and Marie-Ève Carrière
Music: Benoît Coté
Sound: Thierry Gauthier and Benoît Côté
Set design and lighting: Jocelyn Proulx
Costumes: Linda Brunelle
Make-up: Florence Cornet
Accessories: Rachel Tremblay and Ève Turcotte
Downloads