Alexis Dumais
A series to introduce those who work on PPS Danse productions.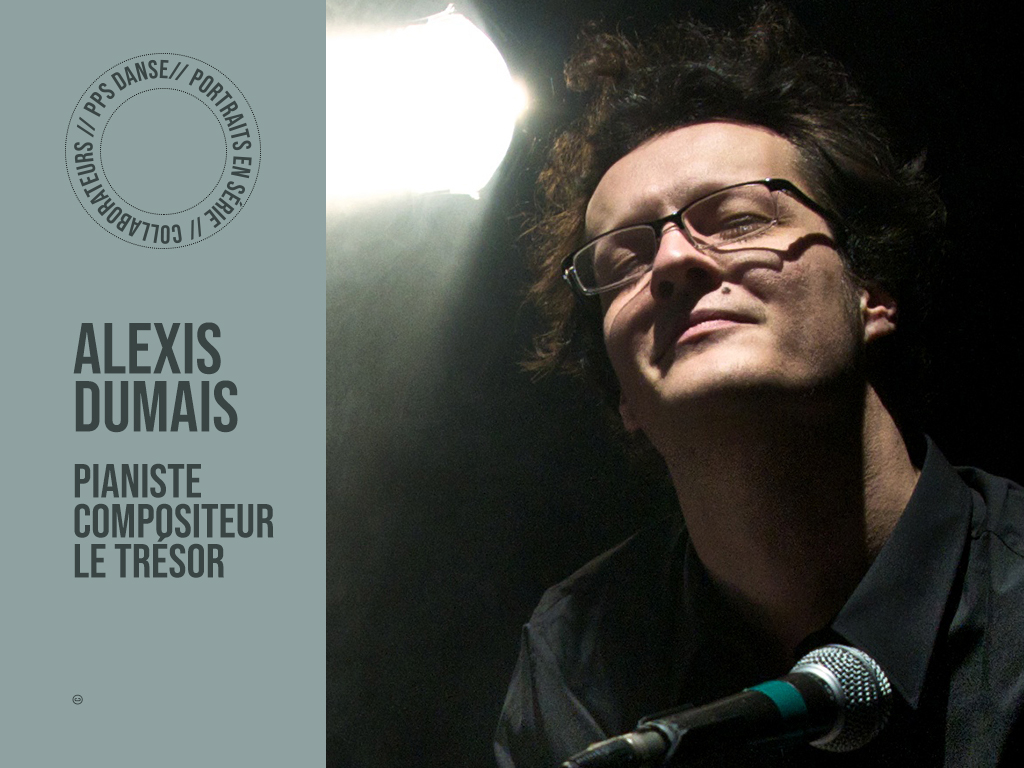 Alexis Dumais / composer for the production Le Trésor
Your place of birth?
I come from Rimouski.
What is the professional activity that best defines you?
Pianist and composer.
How do you approach your work?
I was pleasantly surprised by the spontaneity that was present all along. Alexandre [Désilets] used to come to my little studio-cabin in my backyard. I would simply place a microphone in front of him and the ideas for themes would come out at a rather impressive speed. During the first exploratory sessions, which normally should only have been models, the ideas sung by Alexandre were already so accurate (at all levels) that we kept a large part of them. Sometimes, a common improvisation on the choreography in the image gave a great result, for "L'ennui" in particular. Sometimes we were inspired by more precise musical styles when the choreography required it.
Then we replayed each piece to come up with arrangements with acoustic instruments. Alexandre's immense range could literally set up grooves and counter-scores on its own.
What were the initial instructions you were given?
I would say that "to make a good show" is the most important tacit directive.
From the beginning, Pierre-Paul [Savoie] trusted us. Since he had already made great strides in the show (both in the narrative framework and in the choreography, acting, sets, props), we already had a good idea of the role that the music should play. But there was still a great deal of freedom as to how to play that role, and that was the best guideline there was.
Was the music composed beforehand or was it composed to accompany an existing choreography? If afterwards, what influence did the choreography or creative gesture have on your score?
The previous question answers this one a little, but I would add that the choreography was fundamental to the creation of the music because being already constructed for the most part, we were able to stick to the image, as if it were a film. However, the big difference was that we could each adjust both worlds as we went along.
What kind of collaboration was necessary to advance your work?
I just said two worlds, but in fact there are much more than that. The cat in this creation is a character that could be described as central. He literally has his entourage and leaves no one indifferent!
I would also name all the human contribution of the co-creators of the show, whether it be for the texts, the choreographies, the sets, everyone was there from the heart to put together this show, which I hope one day will come true for the children! Moreover, speaking of them, I would say that the children, in a certain sense, collaborated, because we never stopped thinking about them during the whole process.
Is it important for you to attend rehearsals to adjust your work as you go along?
Every time we attended rehearsals it gave us a boost, especially at the beginning, because everything makes sense.
What is the difference in your work for young and adult audiences?
Honestly, I'm not sure there has to be a huge difference. But certainly, knowing that you're doing this show for an audience capable of relentless honesty, but also of an open-mindedness and a capacity for wonder with no real limits, makes a difference.
Do you rediscover your inner chid by working for young audiences?
Absolutely. And Pierre-Paul too, I'm absolutely certain of it! His childlike soul is the driving force behind this show.