Élisabeth Giroux
A series to introduce those who work on PPS Danse productions.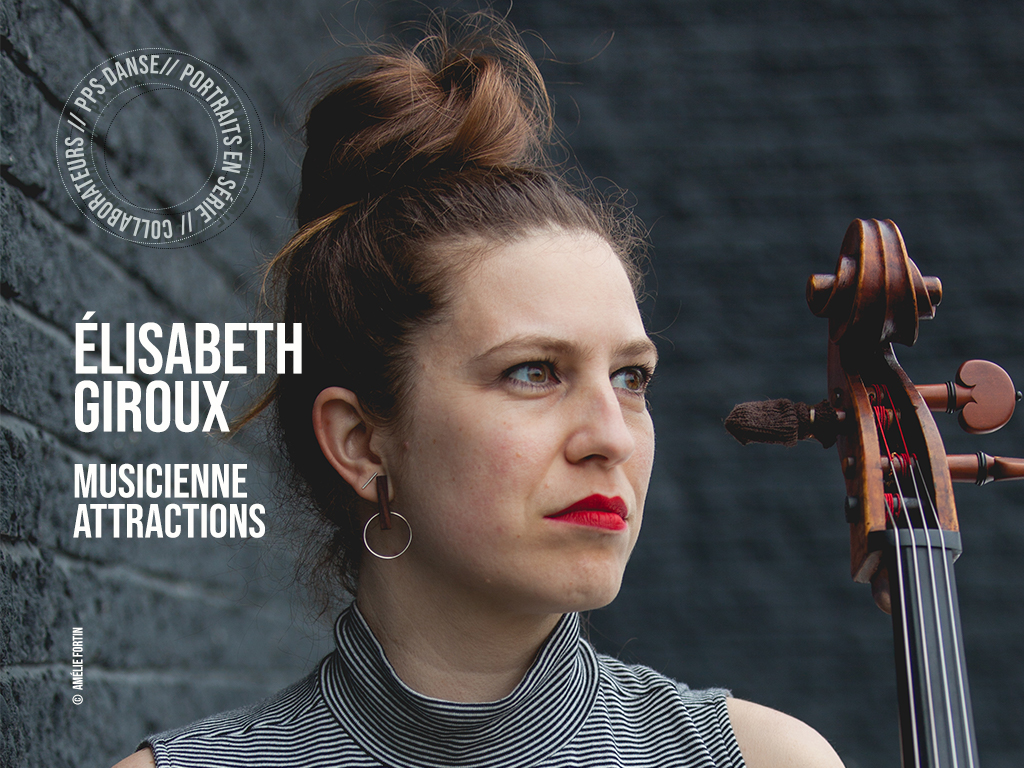 Élisabeth Giroux / musician for Attractions
Your place of birth?
Granby.
At what age did you start making music? Playing the cello? 
I started playing the cello when I was 13 years old after I had to stop classical ballet because of knee problems.
Is it essential for you to practice your instrument every day?  ? 
No. I've never been a "practicing" person just like that. I need to have projects and deadlines to organize my practice and be disciplined. For example, when I have to prepare for concerts or shows where there is a lot of music to learn, I will practice several hours a day for varying lengths of time to make sure I am solid and give my best. Otherwise, I am more the type to take my instrument for the pleasure of exploring, playing Bach suites in the dark or "jamming" with friends.
What is your relationship to dance in general?
Dancing has been my passion since I was a little girl! I did eight years of classical ballet before starting the cello and my first job after my studies was to participate in a two-year world tour with the dance company La La La Human Steps, as a cellist of course! From then on, I developed an interest in the work of choreographers, dancers and dance companies from all over the world. I have also collaborated on contemporary jig projects with Zøgma, and more recently with Tuque and Capuche in contemporary dance.
How were you invited to join the project?
I met Pierre Labbé at a festival by chance and while chatting, he told me he was looking for a cellist for Attractions. I immediately felt attracted to the project because of my interest in dance and creation. Pierre and I talked at greater length afterwards to see if the "fit" was good and it was positive. I am very happy with this circumstantial meeting!
Is it a demanding performance for you?
Very demanding! I'm on stage almost all the time and I have a lot of music to play in addition to the singing which is quite present throughout the show. I have a lot of fast movements with my instrument and I even have a dance solo! There's a lot to think about and I have to be very focused from start to finish. I think I can say it's one of the most mentally and physically demanding projects I've done so far!