Fany Mc Crae
A series to introduce those who work on PPS Danse productions.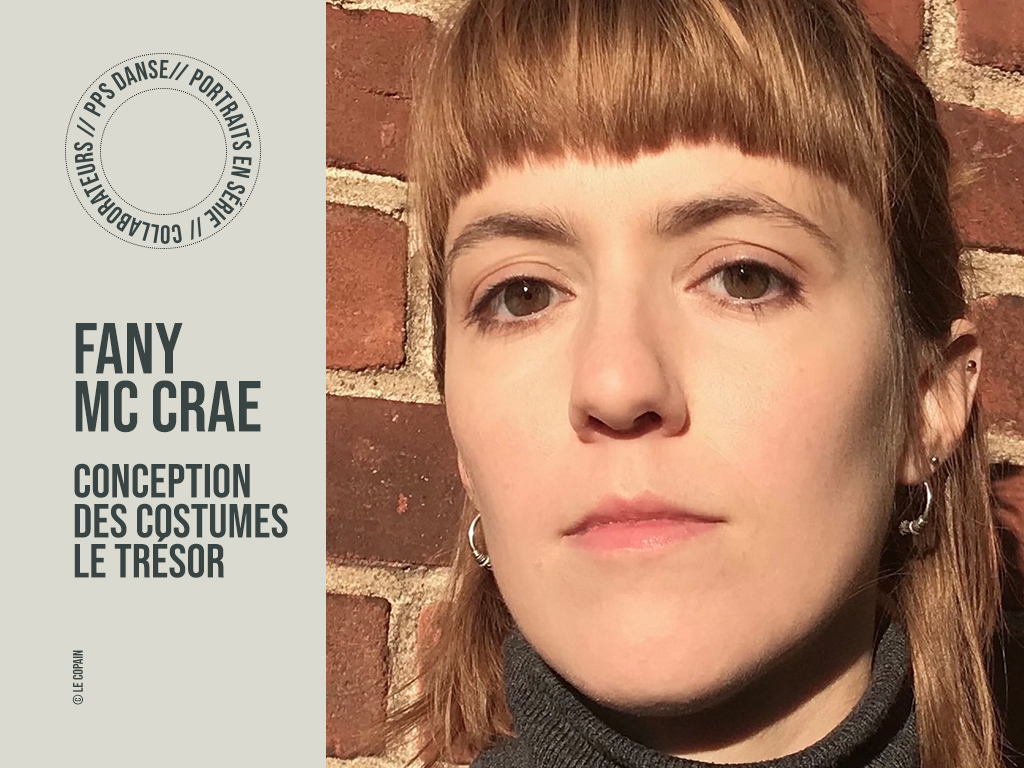 Fany Mc Crae / costumes designer for Le Trésor
Your place of birth?
Montreal.
What is your educational background?
I have a background in Theatre-Production – Set and Costume Design from Collège Lionel-Groulx.
How do you approach your work?
I work in a very collaborative way. For me, creation must be an exchange. I am nourished by the discussions and creativity of the other participants. Since the costume is worn by human beings, it is very important to me that the dancers feel comfortable. The costume must be a motor for their creativity, not a constraint. I put respect and listening at the center of my practice.
What are the initial guidelines you are given?
It can depend a lot on the project. First there are the technical constraints, if there are any, then the budget, the distribution, etc. On the artistic side, the raw material is usually the text, but in dance the starting point can be the music, the movement, or even an ambiance. It can also happen that the choreography is built around a prop or costume element. In this case, my work is even more interesting!
Is your work done in stages, in accordance with the other designers?
Absolutely. During the design meetings, I adjust my ideas according to the proposals of my colleagues. The different elements must create a coherent whole but can also influence each other. For example, I can be inspired by the color palette of the decor or its textures. The costume is also in a very intimate relationship with the light.
Do you make several scenarios before proposing and fixing your ideas?
It is rare that I arrive with a definite idea before meeting with the director and/or choreographer to discuss the show. I start first with inspirational images. These can range from very specific things to more general images (colors, textures, artwork, etc.). From that, I see what inspires us the most and we start from there. I will often produce a quick sketch to launch my first ideas, then a more complete model if necessary. When it comes to fittings, I usually like to have several options so I can choose what works best for the performer.
Is it important for you to attend rehearsals to adjust your work as you go along?
It's extremely important! At the beginning of the process, I get inspired as I watch the performers perform and bring their color to the rehearsal. I am often surprised! Once the costumes are chosen, I have to go to rehearsals to see how the costume moves during the show and make adjustments if necessary: adding a snap, attaching a strap… There are always little details to be adjusted, right up until the last minute!
For you, what is the difference in your work between young and adult audiences?
I love working for young audiences because we can afford to do something crazy that isn't always possible with adult audiences. I can let my imagination run wild! For all audiences, the costume helps to build the character. Even before he says or does anything, you can imagine who the character is. This is even more true for young audiences. On a more technical side, it often happens that an adult plays a child's character. There are little tricks that can be done with the costumes that help create the illusion.
Do you rediscover your childlike spirit by working for young audiences?
Absolutely! I think I'm quite close to my inner child but when I work on a show like The Treasure, I can imagine the reactions of the children and I get caught up in the game. Sometimes I feel like laughing or dancing! In those moments, I know we've done our job well.