Pierre Labbé
A series to introduce those who work on PPS Danse productions.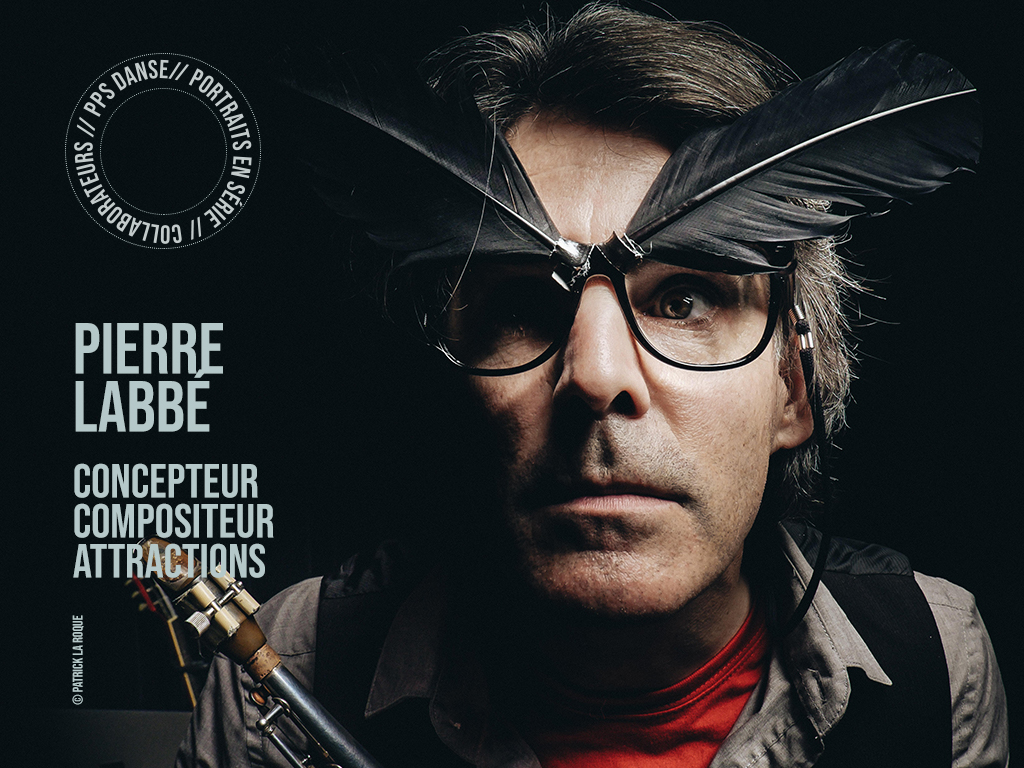 Pierre Labbé / Designer and composer for Attractions
How many years have you and Pierre-Paul Savoie known each other?
I have known Pierre-Paul for several years. We met here and there, at Rideau or elsewhere in shows. I have always appreciated his work as well as his human qualities.
How did the idea of a collaboration come about?
I have a series called Sacrée Rencontre. The principle is to provoke unusual artistic encounters, often between different artistic disciplines. I had in mind for a long time a collaboration with dance and particularly with Pierre-Paul.
A few years ago, I was given carte blanche at the Maison de la Culture Côtes-des-Neiges. In this context, I had a few days of residency and I proposed to Pierre-Paul to start our collaboration. Two dancers, two musicians, two men and two women, two languages to meet, the project was launched.
What challenges do you think are the most important to develop a common project?
I have been working for a long time with other disciplines, especially theater. I always try to consider music as an integral part of a show, that it is not just a simple "playback". I wanted Attractions to be both a concert and a dance show, but above all a fusion of the two.
Did you have a starting point for Attractions?
No outline. But a clear idea, mixing languages. Pierre-Paul was on the same wavelength as me. That's why, from the start, I made the dancers sing and play percussion. The same goes for the musicians, who even go so far as to… dance.  
I deliberately chose to use mobile instruments: the saxophone, the cello and of course the voice so that the musicians could also move around in space. I wanted to use as little as possible a pre-recorded soundtrack. For me, the breath, the voice, the instruments, the bodies and the presence of the musicians are part of the experience and in this sense, they are part of the dance. 
From the first residency I wanted to work with the "objects" of music as a scenographic premise. The big drum that rolls (bass drum) quickly became a character. The same goes for the cymbals that spin while dancing.
How did the ideas come together? Did it evolve a lot in the process?
Only one formal idea: mixing languages. Initially, I tended to want a framework or a canvas. Pierre-Paul was more abstract in his research and in the elaboration of the form. I embraced this intuitive approach, a bit like when I work with pure music without extra-musical material. We worked empirically without rejecting an idea out of hand. Let's try it! We'll see if it holds up. Don't argue too much, but always be in the action, in the body and in the music. Open.
We worked on a lot of ideas. Probably there would be another show to do with everything we gave up along the way! We had to develop the strongest ideas and be as meaningful as possible. The show has evolved a lot. The more we progressed, the more precise it was. 
Little by little, several tableaux were put in place and revealed links between them. Attractions is a deeply human and poetic show.
What is your relationship to dance? to music?
Although I rarely dance, I feel the music in my body. I don't have an intellectual relationship to music (even though I am fascinated by the complexity of this language). All sounds, even noises, are for me sensitive, even emotional. When I hear music, I see absolutely nothing, but I vibrate. In this sense, I think I join the dancer. Moreover, I noticed during the whole creative process that the vocabulary used by the music (crescendo, musical phrase, accents, staccato, accelerendo, etc.) was totally understood by the dancers. In fact, it's the same language. Dance and music have always been inseparable.
Attractions is a wonderful artistic and human experience for me. Thanks to Pierre-Paul and his team and long live creation!