☀️ Discover in June at PPS Danse ☀️
The 2022-2023 season in pictures
To conclude the season in style, here's a video showcasing the highlights of our cultural year. Enjoy it !
New performances for Le Trésor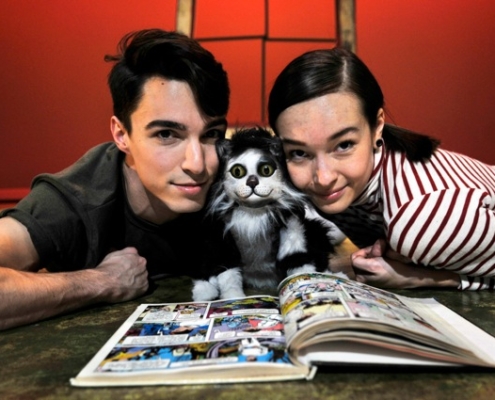 Le Trésor is Going on Tour in Quebec in 2024 ! Catch the Artists in Beloeil, Montreal (LaSalle), and Quebec City. Visit Our Website to Secure Your Tickets Now !
Furthermore, we encourage you to stay connected with us on our social media platforms.
Une chanson à l'école
We are delighted to inform you that we will be participating once again in the highly anticipated music project, "Une chanson à l'école" ! This extraordinary collaboration between the OSM, Culture pour tous, and PPS Danse combines the power of music and dance. This year, we have the privilege of having Fanny Bloom perform the song, which will serve as the inspiration for the choreography created specifically for the young people of the Francophonie.
Primary and secondary school teachers can register now to take part in the event scheduled for 29 September 2023 !
Artist of the month
Nicolas Boivin
Nicolas Boivin, an artist of bursting energy and a contagious sense of humour, has been part of the PPS Danse adventure for nearly 6 years ! After practising several urban styles, Nicolas became interested in ballet and contemporary dance. In his work, he shows generosity and authenticity, allowing him to abandon himself completely to the new material. During his career he has danced in the repertoires and creations of a number of choreographers, including Angélique Willkie, Darryl Tracy and Hélène Blackburn. Nicolas is also a member of Corpus Collective, a Montreal dance collective with which he has worked on a number of projects.
A short video interview with Nicolas is also available here.
Our newsletters will be back in September.
In the meantime, keep up to date with our latest news on our social networks. Of course, the team will remain available this summer, so don't hesitate to contact us.
We wish you a great summer, see you soon !
Les recommandations danse
Montrer des corps vieillissants sur la scène : comment ?
pourquoi ? pourquoi pas ?
Les Entrées libres de Jeu
Michel Vaïs
A reflection on the notion of ageing in the cultural world. Why are older bodies almost entirely absent from the stage? That's the question Michel Vaïs sets out to answer in this article
Génération – recherches sur la danse
Collective work under the direction of Marion Fournier
Theoretical articles, interviews and photographs are combined to explore the theme of generation, and by resonance the theme of transmission.