Myriam Allard, Bïa - © PPS Danse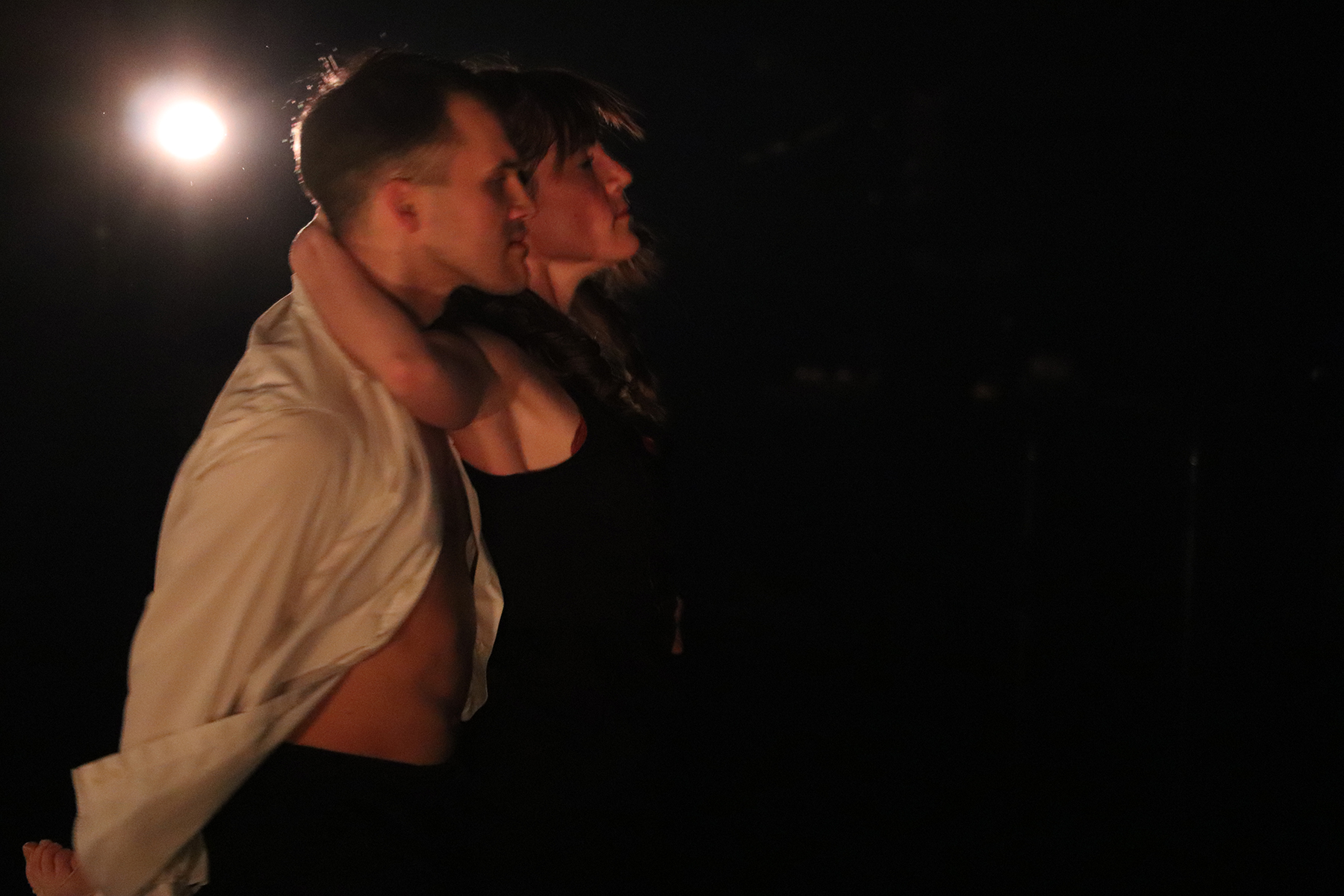 Sébastien Cossette-Masse, Roxane Duchesne-Roy - © PPS Danse
Sara Harton, Alexandre Désilets - © PPS Danse
Sébastien Cossette-Masse, Sara Harton, Geneviève Toupin - © PPS Danse
Dnse Lhasa Danse, created in 2011, is an ode to life highlighting both the work of Lhasa de Sela, who died ten years ago, and the candles of the thirty-year anniversary of the company PPS Danse company (2019). A choral work bringing together about fifteen performers on stage, the vibrant show, warmly acclaimed at the time of its creation, in co-production with Coup de coeur francophone, echoes the unclassifiable repertoire of the one that incites us to celebrate life in all serenity.
The show offers the chance to re/discover the diversity and richness of Lhasa's repertoire in a program carried by performers who echo its strong themes. Leaving plenty of room for song and dance that intertwine throughout an intimate evening, Danse Lhasa Danse brings together on stage magnificent accomplices from the very beginning: Bïa, Alexandre Desilets, Geneviève Toupin and Karen Young, accompanied by five instrumentalists under the musical direction of Frédéric Darveau.
The show, directed by Pierre-Paul Savoie, shows an evocative blend of song and dance, with choreography by Myriam Allard, Hélène Blackburn, Sébastien Cossette-Masse, Roxane Duchesne-Roy, Pierre Lecours, David Rancourt, Pierre-Paul Savoie, Roger Sinha and Edgar Zendejas. Instilled with the magic of this double language, Danse Lhasa Danse invites us to a happy and moving reunion, at the crossroads of genres, the present and the past.
The show was presented in several Quebec cities in the winter of 2020 and was the highlight of an evening to mark the company's 30th anniversary at Théâtre Maisonneuve at Place des Arts. The tour continues.
Not to be missed in the winter of 2022!
February 1, 2022, Théâtre Maisonneuve de la Place des Arts
What they say about it: 
"Danse Lhasa Danse is a felt homage, but delivered in all humility to Lhasa and her work. It is also a marvellous meeting, organic, between dance, song and music. " Iris Gagnon-Paradis, La Presse
"The energy of the 16 musicians, dancers and singers sharing the stage is palpable. In their glances and their movements, one feels a closeness between the artists, who go so far as to invert the roles on occasion. " Marie-Lise Rousseau, Journal Métro
"And this is how Danse Lhasa Danse, the show put together by the PPS Danse company to remind us of Lhasa: in a celebration of life, mixing song, music and dance, creating, having fun, biting into the present, enjoying the simple pleasure of being together. The result is that Danse Lhasa Danse reveals itself as a series of small magical moments, images that remain engraved in the bend of a song or a painting. With this fire of interpretation, so characteristic of the disappeared, which does not cease growing and spreading throughout the 105 minutes of the show. " Steve Bergeron, La Tribune
Crédits
Created and directed by  Pierre-Paul Savoie Artistic Direction Pierre­-Paul Savoie, with the collaboration of Louise Beaudouin Dancers Myriam Allard, Tom Casey, Sébastien Cossette-Masse, Roxane Duchesne-Roy, Sara Harton, Élise Legrand, David Rancourt. Substitutes : Citlali Germé, Marie-Eve Lafontaine Singers Bïa, Alexandre Désilets, Geneviève Toupin, Karen Young Musicians Frédéric Darveau (musical direction et double bass) Sheila Hannigan (cello) Charles Trudel (keyboards, piano) Jean-Alexandre Beaudoin (guitar) Pascal Racine-Venne (drums) Guest Choreographers Myriam Allard, Hélène Blackburn, Sébastien Cossette-Masse, Roxane Duchesne-Roy, Pierre Lecours, David Rancourt, Roger Sinha, Edgar Zendejas, and Pierre-Paul Savoie Technical direction and sound stage manager Gabriel Dugas-Dallaire Logistics coordinator and lighting stage manager Benjamin Perreault Stage manager monitors Thomas Sinou Tour director and stage manager Paule Vaillancourt